COFCO is a leader in agricultural trading and processing with businesses in grain, oils, rice, sugar and cotton. COFCO originates these products from regions such as South America, South Africa, Eastern Europe, North America and Australia to supply areas with high demand such as China, Asia and the Middle East. COFCO is a leading player in the Chinese soft commodity markets and one of the largest physical sugar traders in the world, turning over approximately 6MMT per annum of raw sugar. COFCO Sugar's import volume consists of approximately 50% of total Chinese import volume and it has 1.5 million tonnes of refining capacity.
The acquisition by COFCO in 2011 has enabled Tully Sugar to leverage COFCO's global presence and expertise to remain viable in a competitive industry. Tully Sugar produces around 300,000 – 360,000 tonnes of raw sugar each year and is the largest single sugar mill in Australia.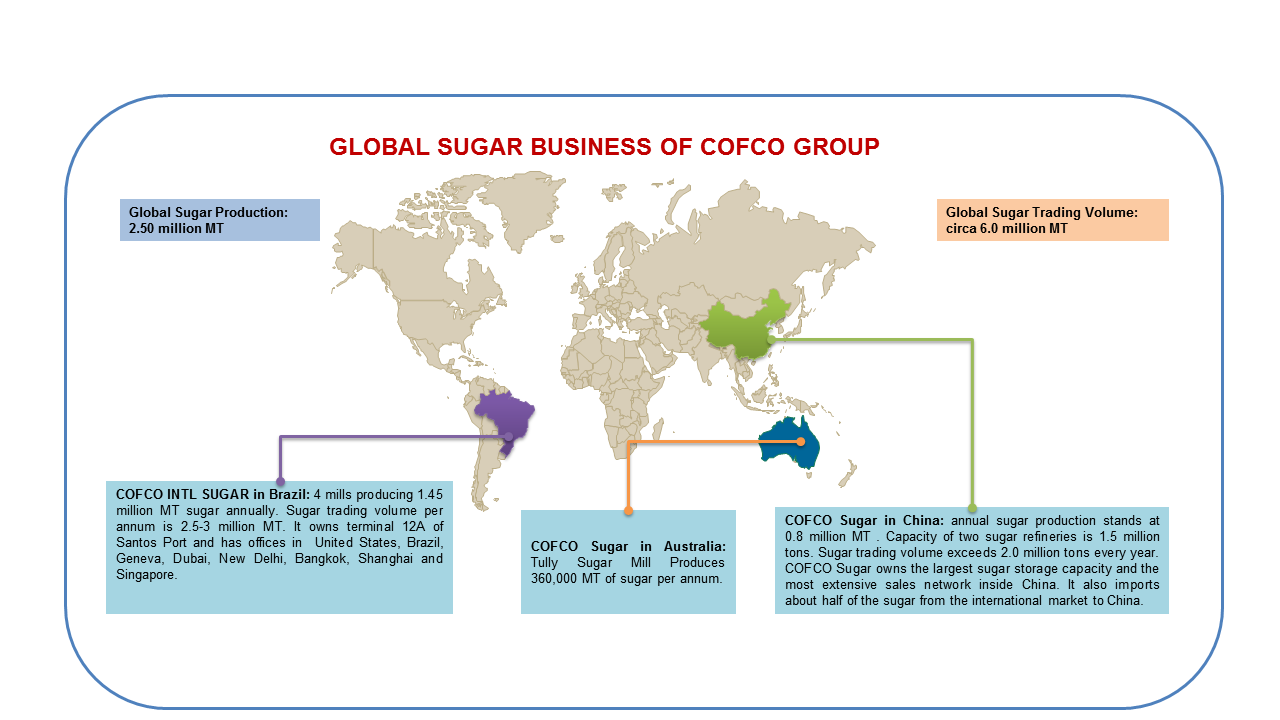 Tully Sugar works closely with China Foods Trading (COFCO company), to manage the marketing and shipping of raw sugar to export customers. The marketing agent is responsible for ensuring that shipments of raw sugar are co-ordinated with Tully Sugar's production and the storage capacity at the Bulk Sugar Terminal to optimise the return from raw sugar marketing.
Under Tully Sugar Marketing, TSL shipped its first cargo in 2017 and has now established a reputation as a reliable supplier of premium quality raw sugar in South East Asia. Raw sugar vessels are sent to various destinations in the region, mainly South Korea and Indonesia.
Tully Sugar as a GEI Sugar Marketer provides services to growers who choose us to market 'Grower Economic Interest' sugar, including sugar pricing, sugar marketing (physical sale), financing and advances in accordance with the Sugar Marketing and Pricing Agreement (SMPA).
Tully Sugar is supported by COFCO Sugar to ensure it is in a position to provide the price risk management, export marketing, finance and logistical services at an experienced and competitive level to create maximum value for growers who choose Tully Sugar as their GEI Sugar Marketer.

Tully Sugar Limited is a wholly-owned subsidiary of Chinese agribusiness company COFCO. We operate one of the largest sugar mills in Australia based in the regional township of Tully, located on the Bruce Highway in Far North Queensland.