ABOUT TULLY SUGAR LIMITED
Tully Sugar Limited is a wholly owned subsidiary of Chinese agribusiness company COFCO.
We operate one of the largest sugar mills in Australia based in the regional township of Tully, located on the Bruce Highway in Far North Queensland. Tully is famous for its high rainfall as celebrated by the town's giant "Golden Gumboot".
Our principal activity is the milling of sugar cane to produce raw sugar of internationally recognised high quality. All our sugar is exported. Molasses is produced as a by-product of the sugar extraction process and is a valuable cattle feed supplement. The molasses we produce is sold into both the domestic cattle feed and the international markets.
Our infrastructure is extremely reliable and efficient, benefiting from a strong record of reinvesting in our people and plant.
The Company also owns and operates a number of cane farms, has commercial and residential real estate interests in Tully and is a Registered Training Organisation.
Milling operations typically occur over the period June to November each year. During that time 99% of the energy we use is "green" renewable energy sourced by firing our 3 steam boilers with the biomass (bagasse) produced after extracting the juice from the sugar cane.
Since 1998, in addition to meeting our own energy requirements, we have been exporting 10 Megawatts of excess renewable energy into the Queensland electricity grid when our plant is operational.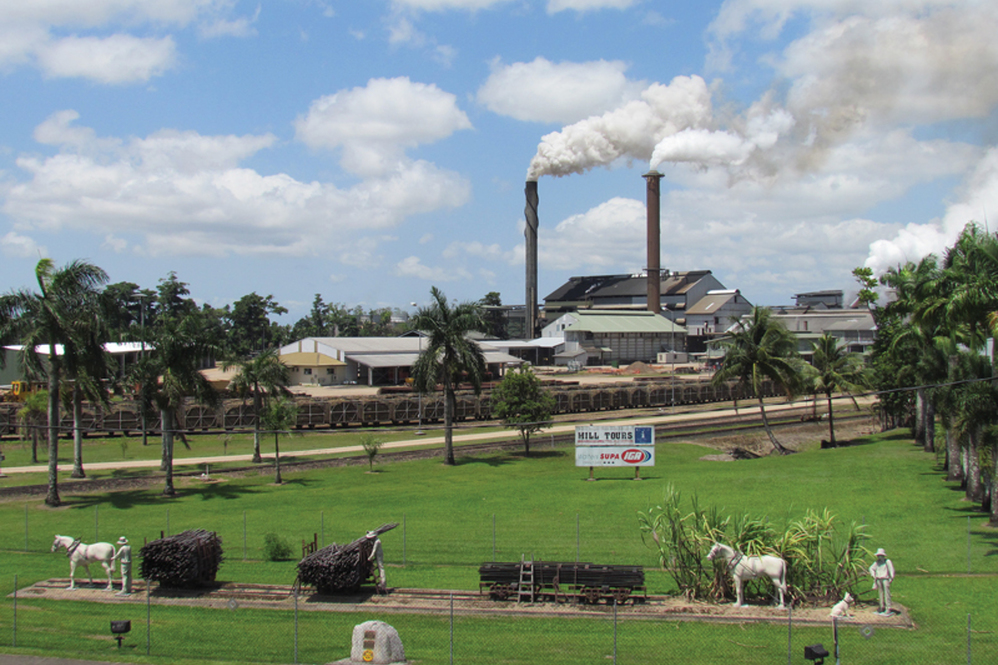 We pride ourselves on the quality of our personnel and our early adoption of leading technologies.
HAVE YOU BEEN ON A MILL TOUR?
Tully Sugar Limited is one of the very few sugar mills that continues to allow tourists to inspect our operations as part of guided tours organised through the Tully Visitor Information Centre.
LEARN MORE
THE EARLY DAYS OF TULLY SUGAR
The origin of the sugar cane industry in Tully dates back to 1865, one year after Cardwell's settlement. A wealthy Scotsman named John Ewen Davidson, who was educated at Oxford University and who visited the West Indies sugar growing areas, came to Tully with the objective of establishing a sugar cane plantation. With his partner R.D.Thomas who was his right hand man, Davidson took up his farm on the banks of the Murray River. The now Bruce Highway actually runs through some of the property which was called "Bellenden Plains". Davidson's attempts to establish a mill proved futile due to a severe cyclone, excessive flooding and hostile aborigines.
This was only three years after the first official record of sugar being manufactured in Queensland by Captain Lewis Hope and John Buhot. They established the first sugar cane plantation in 1862 and Hope operated Australia's first commercial sugar mill in Cleveland near Brisbane in 1864.
The second venture of sugar cane growing in Tully was by James Tyson who arrived here with Isaac Henry and Edward Hewitt in 1879. Henry and Tyson each selected 5,120 acres or 2045 hectare lots. Tyson planted 150 acres of Black Java cane and yellow bamboo. Tyson died a bachelor at the age of 79 in southern Queensland.
Another early venture was by the Neames brothers. They took up land on the north banks of the Tully River in the early 1880's. This area was where the township of Tully was later developed.
Whatever credit may be given to Davidson, Tyson, Hewitt or any others as early settlers, there can be no doubt that the true pioneer of settlement in the Tully district was Isaac Henry. Whereas the others abandoned their plans for settlement, Henry stayed.
Early settlers in the area grew bananas, citrus crops, cattle and even experimented with rice, cotton and potatoes but sugar was never far from their minds.
Many years passed along with surveys, soil testing, serious lobbying and the opposition of southern millers and a royal comission into the viability of establishing a mill in the Tully area. Finally the Theodore state government adopted the royal commission's recommendation and Tully Mill was approved under the Sugar Works Act of 1922.
The site of the new mill on the bank of the Banyan Creek was chosen and a town region surveyed. Apart from the recently built Tablelands crushing plant, Tully mill was the last mill built in Queensland.
The tender for construction of the mill was awarded to Walkers Limited, Maryborough. Bundaberg Foundry supplied some machinery and equipment and FE Barbart and Sons undertook the construction of the factory. Contracts were signed in August 1923 and construction started soon after. The new mill was regarded at the time as an engineering work of art.
The mill's first crushing season, a trial crushing, commenced on 5th November 1925 and continued till the 16th January 1926. This resulted in 32,075 tonnes of cane going through the rollers for a yield of 3,946 tonnes of raw sugar. The mill began its first full season's crushing on 5th July 1926 and it concluded on 19th January 1927. During the period of 28.05 weeks 148,006 tonnes of cane were crushed for a yield of 19,754 tonnes of raw sugar. The number of Tully cane growers who supplied the 1926-1927 crop was 256 of whom 74 were from soldier's settlement farms. Today there are approximately 325 growers who supply the mill with more than 2 million tonnes of cane.
In 1931 the Tully Co-Operative Sugar Milling Association purchased the Tully sugar mill from the government. It was run as a co-operative mill until 1990 when Tully Sugar Limited was incorporated as a public company.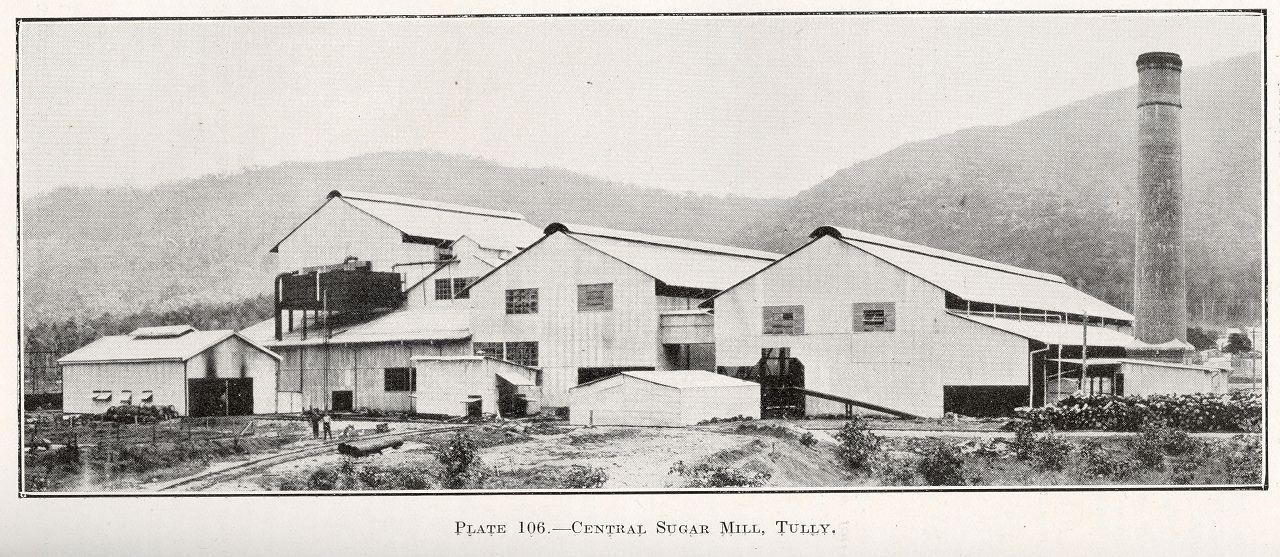 Tully Sugar Limited is a wholly-owned subsidiary of Chinese agribusiness company COFCO. We operate one of the largest sugar mills in Australia based in the regional township of Tully, located on the Bruce Highway in Far North Queensland.